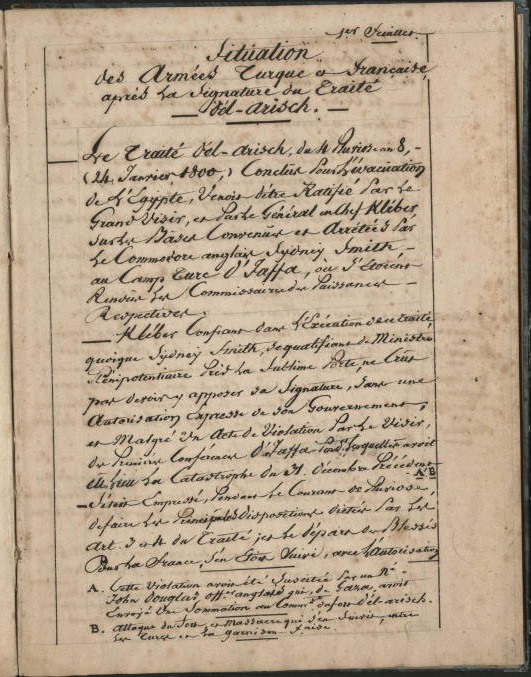 The Rare Books and Special Collections Library maintains archives, personal papers, manuscripts, and other primary source collections related to modern Egyptian cultural, artistic, intellectual, political, economic, and social life. Archival materials related to architecture and scholarship on Egypt's ancient and medieval past are also available. Managed by the RBSCL's Archives unit (responsible also for AUC's University Archives), these collections include a variety of formats like correspondence, writings, publications, visual resources, and memorabilia and artifacts. Other RBSCL curators handle additional formats like photographs and architectural plans.
Archival collections provide coverage of a range of topics for modern (19th, 20th, and 21st century) Egypt, including its visual art history, graphic design and typography, cinema, literature, music, and economy and business. Also documented are activism and social change, women's history, civil society and civic organizations, government and politics, law, and journalism, as well as ethnic, foreign, and religious communities. See Egyptian Society, Arts, and Culture for a description of the topics and collections in these areas represented among the RBSCL's Archives holdings.



Archival collections also relate to:
Architecture and the Built Environment. RBSCL's Regional Architecture Collections (RAC) houses plans, drawings, and models for leading 20th century Egyptian architects like Hassan Fathy, Ramses Wissa Wassef, Sayed Karim, Gamal Bakry, and others. The Archives manages textual documents and other archival resources in those collections, often related to aspects of the architects' lives and careers beyond the buildings they designed. Other collections relate to topics like the Cairo neighborhood of Maadi and real estate promotional materials.
Egyptology and Coptic Studies: The Archives holds the collections of a number of Egyptologists, especially Egyptians in the profession like Ahmad Fakhry, Abdel Moneim Abu Bakr, Gaballa Ali Gaballa, and Zaki Isakander. Coptic studies research is supported by material like the Moftah family archives focused on pioneering music scholar Ragab Moftah.
Islamic Art and Architecture, in particular Cairo's monuments and those of the wider Middle East, are documented in collections like those of scholars K.A.C. Creswell and George Scanlon, and the preservation firm of architect Salah Lamei.
Manuscripts, primarily managed with the RBSCL's rare books, are for some holdings accessed via Archives staff. These include an account of the battle of Abukir by French general Jean-Baptiste Kléber, and a mid-nineteenth century petition by the descendants of French officer Blanquet du Chayla defending his performance during the hostilities.
Also available for on-site browsing is a digitized version of the archival collection of the last Khedive of Egypt Abbas Hilmi II (1874-1944), through an agreement with Durham University Library in the United Kingdom, which houses the original collection.

How to Find Archives
Guides and indexes to archives and manuscript special collections are available; some may be viewed through the Library Catalog. Selected digitized holdings can be accessed through the Rare Books and Special Collections Digital Library. Archived versions of websites can be browsed at AUC's Web Archive.
Using Archives
Research assistance is available via email, by telephone, or in person, but appointments should be made for on-site research visits. To plan your visit and arrange for access, seeVisiting and Access to the Library. Doing Research at RBSCL provides guidance and policies and procedures for using and citing and permission to publish archives, manuscripts, and other special collection materials.Reproductions and Digitization information is also available.
Location, Hours, Contact Information
The Archives office is located within the Rare Books and Special Collections Library (RBSCL), in Room 3034 on the third floor of the Library building on AUC's New Cairo campus. Archives staff members are available from the hours of 9 am until 4 pm, Sunday through Thursday. Contact archives staff members at archives@aucegypt.edu, or see the RBSCL's contact us page for staff email addresses and telephone numbers.