Egyptian Society, Arts, and Culture
Egyptian Society, Arts, and Culture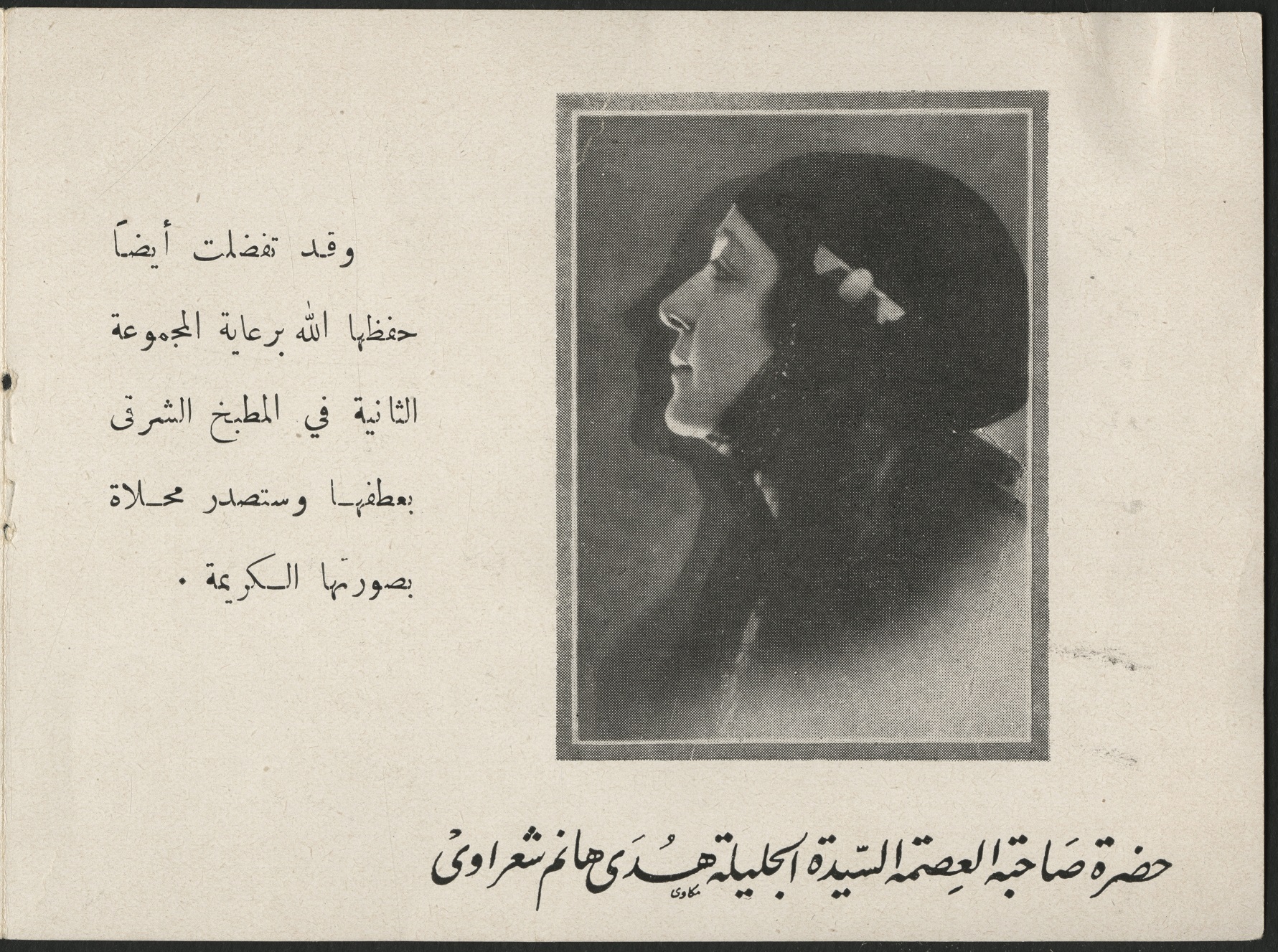 RBSCL possesses extensive primary resources on the society and arts of modern Egypt (1800s - 2000s). The archives of leading visual artists, cinema memorabilia, and more support the study of Egyptian art history and culture. Women's history and social change are documented by archival collections of Huda Shaarawi and other reformers, social scientists, and civic organizations. Economic and political life is revealed through primary sources like business records and material on Egypt's 2011 revolution. Book, magazine, and photograph collections complement these holdings.
Arts and Culture
Egyptian visual art history is a collecting area for the RBSCL, with archival collections for some of Egypt's most notable 20th-century artists, such as Salah Taher, Margot Veillon, and Hussein Bicar. Cartoonists like Armenian-Egyptian Alexander Saroukhan are also represented. These and other collections also contain exhibition catalogs for Egyptian museums and art galleries. Book and magazine holdings complement these.
Cinema resources are available, most notably a collection of illustrated, multilingual promotional programs for Egyptian films from the 1920s through the 1980s, some of which provide information on motion pictures that no longer exist. The collection assembled by film critic and historian Mahmoud Qassim contains article clippings files about actors, directors, and the cinema industries of countries around the world. These are complemented by still photographs from Egyptian films dating from the 1940s, and the Van-Leo photograph collection's numerous portraits of film actors and actresses, as well as prominent film directors.
Graphic Design and Typography in Egypt are documented in archival collections such as those of Bicar and early 20th-century calligrapher Naguib Hawawini. In addition, the library's collections of historic Egyptian magazines dating to the late 19th century feature many aspects of graphic design in their cover and interior artwork and advertisements. These are supplemented by oral history interviews with artists.
Literature represents an aspect of several collections. The archives of leading translators of Arabic language fiction into English, Denys Johnson-Davies and Humphrey Davies are available, along with related oral histories. Other collections include that of journalist and author Anis Mansour and writer and artist Hussein Bicar. In addition, the RBSCL holds a collection of the works of author Naguib Mahfouz translated into numerous European and Asian languages, as well as other works of literature among its rare book collections.
Music and dance are documented by the Ragab Moftah Collection on Coptic music, the records of the Cairo Choral Society, and small sheet music holdings. In addition, the photograph collection of studio photographer Van-Leo includes portraits of musicians, singers, and dancers in Egypt. Audio recordings of music performances can be found in the Voice of America radio archive, and video recordings of music and dance performances are found in the holdings of the AUC University Archives.

Women's History, Social Change, Government, Law, and Journalism
A number of archival collections reflect Egyptian social change and activism. Collections documenting efforts in the area of women's rights include those of pioneering feminists Huda Shaarawi and Doreya Shafik. Shaarawi's papers relate to her philanthropic efforts and reforms she advocated in the early 20th century, and Aziza Hussein's a variety of social causes in the second half of the century. Besides these archives, women's history is reflected in extensive photographic holdings (like Van-Leo's portraiture), periodicals (such as L'Egyptienne and Bint Al-Nil or popular image-rich magazines like Al-Musawwar), and books (for example, Elizabeth Cooper's 1914 The Women of Egypt).
Reports and other documents from Egyptian civic and non-governmental organizations (NGOs) in a variety of fields form an archival collection. Available at the library as well is a collection of "grey literature" related to refugees and refugee relief organizations. Websites related to civil society and NGOs also preserved by the RBSCL in its Web Archive.
Government and Politics are reflected in printed works and archival collections. Opposition to British colonial rule is a theme in the papers of Huda Shaarawi (which contains correspondence with various Egyptian and international political figures). Ahmed Hussein's service as Egypt's ambassador to the United States in the 1950s is evident in the Aziza Hussein and Ahmed Hussein Collection. In addition to diplomatic matters, the work of international organizations like the United Nations are reflected in that collection, as well as that of former United Nations Secretary-General Boutros Boutros-Ghali.
Various collections, such as that of Hassan Fathy, contain reports and documentation related to Egyptian government entities with which they served, such as various Supreme Councils, and government initiatives and policies in fields like arts, culture, and urban planning. Photograph collections depict Egyptian monarchs and presidents like King Farouk and Gamal Abdel Nasser.
Contemporary Egyptian politics are also reflected, notably in the collection of the University on the Square: Documenting Egypt's 21st Century Revolution project, which in addition to oral history recordings, photographs, and videos contains banners, signs, leaflets, newspapers, and artifacts related to the demonstrations of January 25, 2011 and its aftermath. Other holdings include posters and other promotional material from recent Presidential and Parliamentary election campaigns. The RBSCL's Web Archive contains numerous internet-based resources in these areas.
The Egyptian legal system is reflected in collections containing the record of court proceedings, like that of Saad Eddin Ibrahim, as well as personal status documents (on matters like citizenship, property, etc.) found in many collections. In the area of printed material, the library also holds the journals of Egypt's Mixed Tribunals for the first half of the 20th century.
Prominent Egyptian journalists are represented in the Archives, which house personal papers collections of Mustafa Amin (1914 - 1997) and Anis Mansour (1925-2011), who commented on Egyptian politics and society and who maintained relationships with national leaders. The original political cartoons of Armenian-Egyptian cartoonist Alexander Saroukhan depict his commentary on the political events and society of his day.



Economics and Business Archives
Economic conditions in Egypt are reflected in many archival collections, in correspondence and other documents that make note of financial matters, prices, professions, etc.. Business archives are the focus of several collections, including ledgers related to an Alexandria cotton trading firm and of a Nile delta farm, and the Gazarin collection related to the automotive industry in Egypt. The Archives also houses archival material and publications collected by AUC's Economic and Business History Research Center, along with its extensive set of oral histories.



Ethnic, Foreign, and Religious Subcommunities
A number of collections reflect ethnic and religious identity and the life of subcommunities within Egypt. These include collections related to the Coptic Christian Moftah family, and material related to individuals from other religions (such as the Bahai Hussein Bicar) is also available. Substantial material also relates to Egyptian Nubians, especially material on ethnographic and resettlement research projects in the 1950s, 1960s, and 1970s conducted by the American University in Cairo's Social Research Center as well as the papers of Hassan Fathy, who documented Nubia's vernacular architecture before the building of the Aswan High Dam.
Other holdings document foreign communities and expatriates in Egypt, such as the papers of British citizen K.A.C. Creswell, Armenian photographer Van-Leo, and Swiss-Austrian artist Margot Veillon. Other resources include Judge Jasper Brinton's research material about the American community in Egypt, and the collections of foreign faculty members from the American University in Cairo. Archives like these are supplemented by oral history interviews and publications like the British community's Sphinx magazine (late 19th to mid-20th century) and the German-language Papyrus magazine (1979-present). AUC's University Archives includes records, especially those of the faculty services coordinator, that relate to life for foreigners in Egypt. Finally, there are collections of websites related to religious groups and ethnic and foreign communities in the library's Web Archive.