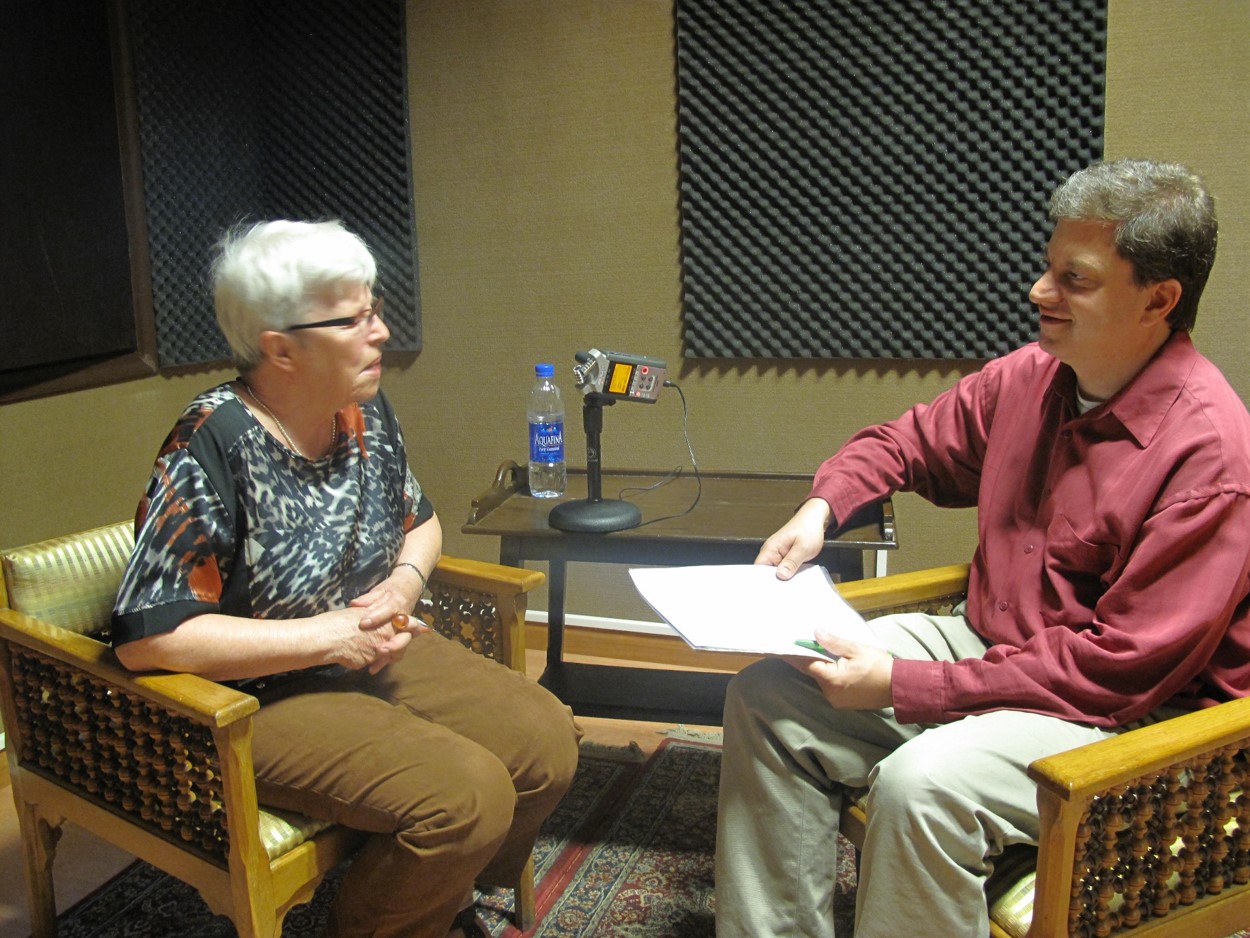 Oral History Initiatives
Oral Histories are an important means of documentation for AUC's Rare Books and Special Collections Library. The archives team at the RBSCL engages in an active program of oral history interviewing by faculty, staff, and work-study students. Interviews are made using ZoomH4N audio recorders, and in some cases video recording equipment, typically taking place in a recording room in the archives or the Tahrir Square campus radio studio. After audio editing for clarity, interviews are transcribed and summarized and featured in the Rare Books and Special Collections Digital Library along with descriptive metadata.
The areas covered by this oral history program are:
Documenting Egypt's History and Heritage
Individuals who have made an important contribution to Egyptian society and culture, or who have interesting life histories to share, are another focus of the library's oral history program. Interviews have been conducted with leading women's rights activists like Aziza Hussein and Marie Assad, prominent artists like Gazbia Sirry and Helmi El-Touni, as well as architects, specialists in Coptic heritage, and others. Interviews with members of subcommunities in Egypt, such as religious and ethnic minorities, are an area of interest going forward.
Special projects are also pursued, like the grant-supported program of 70 oral history interviews made in spring 2016 with relocated residents (many elderly) of Qurna village near Luxor, covering their ways of life and that of their community.
The RBSCL also holds the oral history archive of AUC's Economic and Business History Research Center, with dozens of interviews with leading figures in 20th-century Egyptian politics and economy. Donations of interviews conducted by researchers on a variety of topics, such as life in Cairo neighborhoods, are also accepted for the oral history archive.
University on the Square: Documenting Egypt's 21st Century Revolution
In addition to collecting thousands of photographs and artifacts from demonstrations at Tahrir Square and elsewhere, this project has recorded oral histories with participants in and observers of the political events in Egypt from January 2011 to the present day. The more than 400 individuals interviewed include activists, journalists, artists, refugees, and AUC faculty, staff, students, and alumni, coming from diverse personal backgrounds. A selection of interviews can be found in the University on the Square section of the Rare Books and Special Collections Digital Library.
Recording AUC Voices
The University Archives of the American University in Cairo employs oral history as part of its mission to document the university's history, people, and contributions. Since 2005, almost 200 faculty, administrators, staff, alumni, and current students have been interviewed, building upon a series of several dozen interviews conducted in the late 1960s and early 1970s, creating an archive of voices extending to AUC's earliest years, nearly a century ago. Topics covered include the role of women at AUC, student life and activities, the evolution of university structures and academic programs, times of crisis like the 1967 war and later student strikes, and major milestones like the move to the New Cairo campus. These are available in the AUC Oral Histories and Reminiscences section of the Rare Books and Special Collections Digital Library.



Audiovisual

Collections
A variety of audiovisual media, including motion-pictures and sound recordings, is maintained at the Rare Books and Special Collections Library. Original formats like 16mm reel-to-reel films, VHS video cassette tapes, and audiotapes are maintained, with digitized versions produced to facilitate preservation and access. Digitized versions are available in various sections of the Rare Books and Special Collections Digital Library.

Egyptian and regional heritage is the focus of a number of audiovisual collections held by the library.
Reel-to-reel films offer outstanding motion-picture documentation of Egypt and Cairo. Dating from the 1920s through the 1980s and produced in both black-and-white and color, promotional films produced by AUC include scenes of Egypt and especially Cairo, depicting monuments and tourist sites, public events, neighborhood life, trades and professions, transportation, and other aspects of daily life. Other reel-to-reel films from the 1950s to 1970s, some of them home movies, depict a variety of scenes from Egypt ranging from Egyptian royalty to the Suez Canal and 1973 October War, as well as leisure and travel scenes of elite Egyptians. The films have been digitized and are available in the Historic Egypt and AUC Films and Videos section of the Rare Books and Special Collections Digital Library.
The Ethnographic and Anthropology Films Collection (1950s - 1980s) contains reel-to-reel films, largely related to Egypt and the Arab World, depict topics such as ethnic identity, agriculture and food production, village life, vernacular architecture, and ancient Egypt. The films were transferred to the Archives from the Main Library's audiovisual collection. This collection has been digitized, but due to the copyright status of the films, researchers should contact Archives staff to arrange for access.
The Voice of America Egypt Sound Archives (1980s - 2000s) was donated by the Voice of America (VOA) Arabic Service's Cairo Bureau and contains sound recordings (tapes and some digitized recordings) of radio programs, interviews, songs, and instrumental music. Except for a set of compact disks produced by VOA containing selections from their programs, the collection is not yet available in digital format.
Several archival and personal papers collections, such as that of Van-Leo, also include reel-to-reel films, videocassettes, or audio cassette recordings.
AUC's history and campus life are the focus of audiovisual holdings of AUC's University Archives.
Reel-to-reel films show the university from the 1920s through the 1980s, in official promotional productions or those made informally. These depict faculty and staff, campus scenes, academic activities, student organizations and social activities, athletics, events like commencement, and other aspects of university life. These films (including rare color specimens from the 1920s through 1940s) have been digitized and are available in the Historic Egypt and AUC Films and Videos section of the Rare Books and Special Collections Digital Library.
Videocassette recordings of events held at AUC from the 1980s through the 2000s show commencements, lectures, theater and music performances, and other events at AUC. These VHS tapes have mostly been digitized; researchers should contact Archives staff to arrange for access.