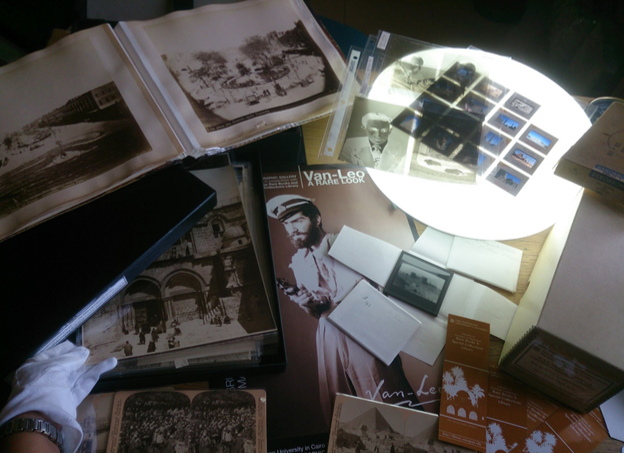 Photographic materials at the Rare Books and Special Collections Library are a rich source for research on the culture, history, and architecture of Egypt and the Middle East. These holdings include collections of prints, negatives, slides, photograph albums (many compiled by visitors to Egypt), postcards, stereoscope cards, and rare books featuring the work of early photographers like Francis Frith.
TheK.A.C. Creswell Collection of Photographs of Islamic Architecture is one of the best collections of its kind in the world. Prints, postcards, and stereographs by nineteenth and early twentieth-century commercial photographers such as Sebah, Béchard, Bonfils, Beato, Zangaki, Lékegian, Fiorillo and Abdallah Frères also feature views of architecture in Egypt and other parts of the Middle East. These materials also depict pharaonic structures and artifacts, scenes of the bombardment of Alexandria in 1882 as well as contemporary rural and urban life in Egypt and throughout the region. The RBSCL also maintains a large collection of slides related to Egyptology and Islamic art and architecture.
The collection of photographs by Van-Leo, one of Egypt's leading studio photographers of the mid-twentieth century, features portraits of Egypt's artistic, intellectual, and political elites during the middle of the 20th century. Family and individual portraits of ordinary people are also found in Van-Leo's collection, as well as the Iskander Family Photograph Collection which depicts several generations of a Cairo family. A large set of Van-Leo's self-portraits also displays his creativity as an art photographer. Images of work by other artists, such as Salah Taher and Margo Veillon, are also maintained by the RBSCL. Cinema still photographs, press books and poster collections compiled by Mahmoud Qassim and Mahmoud Aly also document Egyptian cinema personalities and productions.
Other collections depict the people and places of Egypt. Architects' collections, like that of Hassan Fathy and Sayed Karim, contain photographs of their built works as well as examples of architecture from around Egypt and the world. Especially valuable are photographs were taken by Fathy in the early 1960s that document the indigenous architecture of Nubia lost when the region was flooded due to the construction of the Aswan High Dam. Photographs from AUC's Social Research Center also reflect life in Nubia in the 1950s and 1960s, as do other ethnographic collections and those of artist Margot Veillon who traveled widely in the country and region.
The RBSCL's Photograph Curator, located on the third floor of the library provides service to researchers in using these collections; see Contact Us and Doing Research at the RBSCL for details. Selected holdings are available online in the Rare Books and Special Collections Digital Library.
Nineteenth and Early Twentieth-Century Photographs of Egypt and the Middle East

Van-Leo and Angelo Boyadjian Photograph Collection

Postcard and Stereograph Card Collection

Hassan Fathy Collection

Iskander Family Photograph Collection

Cinema Collection of stills, press books and posters

Slide Collection of Egyptology and Islamic Art and Architecture Images
Archives staff can assist users with other collections:
Contemporary photographs in digital form document major recent events in Egypt. These include images of demonstrations and protests and graffiti and street art taken after 2011, which form part of the collection of the

University on the Square: Documenting Egypt's 21st Century Revolution project

, available in the Rare Books and Special Collections Digital Library.

The photograph collection of The American University in Cairo's University Archives includes images of university buildings and campus life, events, and administrators, faculty, staff, students, and visitors (many well-known), dating to the school's founding in 1919.

A variety of films and other audio-visual media is also available.