Regional Architecture Collections
Regional Architecture Collections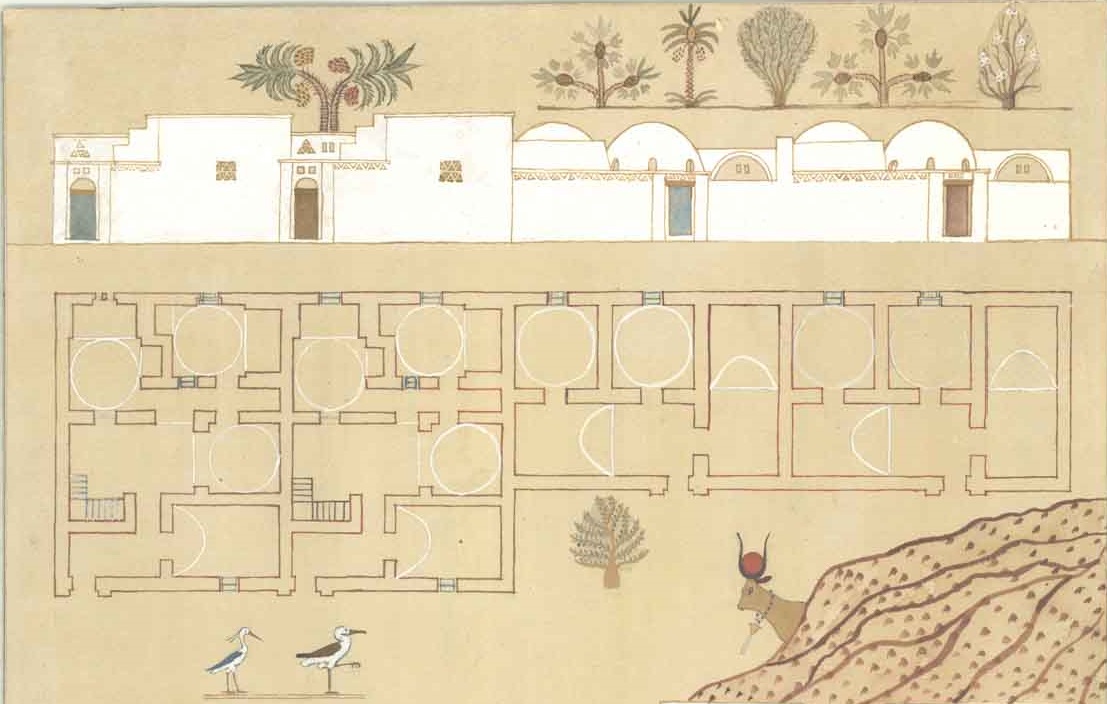 The architectural heritage of modern Egypt and the Middle East is documented by the Rare Books and Special Collections Library's Regional Architecture Collections (RAC) unit. This unit houses archival resources like plans, drawings, models, and other materials from many of Egypt's and the Middle East's leading 20th-century architects, as well as similar material for historic Islamic architecture in Egypt and the region. Selected holdings are available online in the Rare Books and Special Collections Digital Library.

The RBSCL's Regional Architecture Collections originated with the 1994 acquisition of the archive of Hassan Fathy (1900 - 1989), Egypt's most renowned architect of the modern era. Drawings and plans for buildings he designed to reflect his adaptation of traditional, indigenous methods and styles of construction (such as Nubian mud brick and domes), as do those of his contemporary Ramses Wissa Wassef (1911-1974), whose collection was acquired a decade later. Collections for architects who followed in these traditions, like Ahmad Hamid, are represented as well.

The collection of Sayed Karim (1911- 2003), an Egyptian modernist architect and founder of the significant but short-lived Majallat al-Imara ('the Architectural Magazine'), is also housed with the Regional Architecture Collections, as is that of Gamal Bakry (1931- 2006), the prolific architect who infused avant-garde forms with functionality. These architects, like Fathy, designed buildings in Egypt as well as throughout the region and beyond. The collection of Egyptian-born Kamal Amin (1928 - 2020) reflects his work predominantly in the United States, where he was a follower of Frank Lloyd Wright.

Other resources, like the drawings and ground plans of Christel Kessler document historic Islamic monuments in Egypt. The archive for Salah Lamei's (1935- ) Centre for Conservation and Preservation of Islamic Architectural Heritage (1984 - 2016) does so as well, in connection with its restoration activities throughout Egypt and the Middle East.

In order to preserve these collections and make them available for research, architectural plans and drawings receive conservation treatment and are stored using archival-quality techniques in special cases. All materials are arranged, described, and indexed (efforts supported by past grants from the Getty Foundation and U.S. National Endowment for the Humanities).

The RAC also maintains other resources like architectural models, architects' artifacts, Hassan Fathy's personal library, and other reference sources. Oral histories with significant architects are also conducted and are in the Rare Books and Special Collections Digital Library. Documents like project files, writings, correspondence, and publications associated with the collections are maintained and made available to researchers in the Archives facilities located on the third floor of the RBSCL. Photographic portions of the collections are available through the RBSCL Photographs curator.

How to Find Regional Architecture Collections Materials
Guides and indexes to Regional Architecture Collections materials may be accessed by searching theAUC Library Catalog. Selected digitized holdings can be accessed through the Rare Books and Special Collections Digital Library.
Using Regional Architecture Collections Materials
Research assistance is available over email, by telephone, or in person, but appointments should be made for research visits. To plan your visit and arrange for access, seeVisiting and Access to the Library. Doing Research at the RBSCL provides guidance and policies and procedures for using and citing and permission to publish Regional Architecture Collections materials. Reproductions and Digitization information is also available.
Location, Hours, Contact Information
The Regional Architecture Collections (RAC) unit is located within the Rare Books and Special Collections Library (RBSCL), in Room 2034 on the second floor of the Library building on AUC's New Cairo campus. Visitors should come to the RBSCL third floor research help desk in order to be escorted to the RAC. RAC staff members are available from the hours of 9:00 am until 4:00 pm, Sunday through Thursday. Contact RAC staff members at rbscl-rac@aucegypt.edu or see the RBSCL contact us page for staff email addresses and telephone numbers.