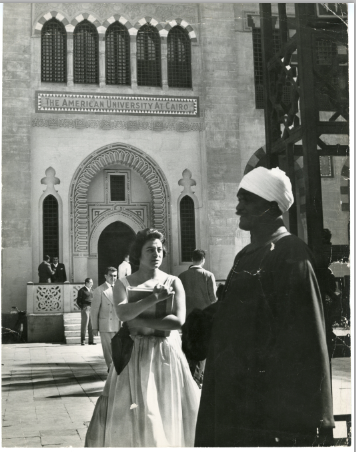 The AUC University Archives is the official repository for the history and records of The American University in Cairo. Covering AUC's early 20th century origins through the present day, holdings include records and documents, publications, photographs, videos and other audiovisual recordings, oral histories, websites, and artifacts. These resources support research, teaching, and the administrative needs of the University.
AUC's University Archives maintains a wide range of holdings, including records of AUC offices and departments, publications, photographs, historical reference collections, oral histories and audiovisual recordings, websites about AUC, faculty and Alumni Personal Papers, and certain theses and student records. Visit our University Archives Holdings page for details. More background about the University Archives and its role is available at its Mission and History page.
For transferring university records to the University Archives contact AUC Records Management staff. Donations of material, like yearbooks and other publications or other materials related to faculty and student life, are also welcome; contact archives staff and see Donating to the RBSCL for more information.
How to Find AUC University Archives Materials
Selected guides and indexes to AUC University Archives records collections may be accessed by searching the AUC Library Catalog. Selected digitized holdings like Trustees meeting minutes, publications, and photographs can be accessed through the Rare Books and Special Collections Digital Library and the AUC FOUNT Repository. Archived versions of AUC official websites and related internet content can be browsed at AUC's Web Archive.
Using the AUC University Archives
Research assistance is available via email, by telephone, or in person, but appointments should be made for research visits. To plan your visit and arrange for access, see Visiting and Access to the Library. Doing Research at the RBSCL provides guidance and policies and procedures for using and citing and permission to publish University Archives materials. Reproductions and Digitization information is also available.
Location, Hours, Contact Information
The University Archives is located within the Rare Books and Special Collections Library (RBSCL), on the third floor of the Library building in Room 3034 on AUC's New Cairo campus. Archives and AUC records management staff members are available from the hours of 9 am until 4 pm, Sunday through Thursday. Contact archives staff members at archives@aucegypt.edu and records management staff members at recordsman@aucegypt.edu, or see the RBSCL's Contact Us page for staff email addresses and telephone numbers.